Thayer County Health Services (TCHS) is excited to welcome Kelsey Koranda to our staff.  Bring Behavioral Health as a new service is an important step in helping to end the stigma surrounding mental health.  This new service will allow TCHS to treat our patients physical and mental health.  Mental health conditions are common, treatable, and  we want our patients to know help is available.  There is a wide variety of treatment options ranging from talk therapy, medication, peer support, and it may take time to find the right treatment or combination of treatments that works best. But when they do, the results can be truly amazing.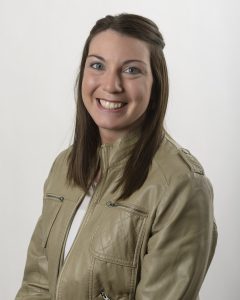 Kelsey Koranda, M.A., PLMHP,
Behavioral Health Clinician
Kelsey grew up in Deshler and graduated from Deshler High School in 2011. After graduation she furthered her education at Doane University, earning a Bachelor's degree in Psychology. She then went on to earn her Master's degree in counseling at Colorado Christian University. Kelsey graduated in January, 2018 and began working at Thayer County Health Services in February, 2018.
Kelsey comes to us with experience in from working with Jenda Family Services in Lincoln as a Skill Builder and Family Support Worker for families involved with the Department of Regulatory Services and Probation. She also has experience from working in a private practice and in a facility that treated addictions. While working toward her Master's she was able to see a wide array of clientele ranging from children, adolescents, and adults.
Kelsey is working towards a certification in Eye Movement desensitization and Reprocessing, as well as Play Therapy. Her long range goal is to go back for her Doctorate in Psychology and become a Clinical Psychologist. Kelsey is currently taking appointments to see patients at Thayer County Health Services.
The following is a summarized listing of the behavioral services she will be offering at Thayer County Health Services:
• Care for all ages (children, adults, adolescents, and older adults)
• Supportive, Expressive, and Psychoanalytic Psychotherapy
• Group Therapy
• Individual Therapy
• Substance abuse and addiction interventions including: psycho-pharmacology to decrease desire and craving and therapy to assist in preventing relapse
• Behavioral therapies
• Motivational interviewing
If you would like more information concerning the Behavioral Health services offered at Thayer County Health Services, call 402-768-7203.