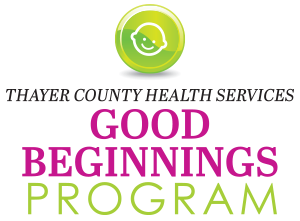 Good Beginnings is here to provide supportive service to families with children in the age group newborn to 5 years old. It also serves women during their pregnancy (whether her first of not) and provides support during this time of incredible change.
Good Beginnings works with agencies in the community to better serve our families as a whole. We teach healthy well being, self-care, child-care, child development, and assist with social services needs. Thayer County Good Beginnings serves families who have delivered at Thayer County Health Services, or who live in Thayer County but may have delivered elsewhere.
Good Beginnings is provided through physician referral. However, if you have any questions, please contact us at 402-768-4625.
MOST PARENTS WANT…
• to be a good mom or dad
• to have happy, healthy children
• to be told they are doing a good job
• to have someone to turn to during times of uncertain
Thayer County Good Beginnings is a program that will help you with all of these things and more. We offer regular home or clinic-based visits from trained personnel.
GOOD BEGINNINGS CAN ASSIST YOU WITH:
• Choosing good prenatal care
• Childbirth and parenting education
• Bonding with your child
• Understanding developmental stages
• Discovering discipline options
• Developing good routines
• Stimulating language development
• Making healthy nutrition choices
• Maintaining healthy relationships
• Planning or preventing future pregnancies
Our program is available to all families who are pregnant or have children newborn to age 5.
REFERRAL SERVICES
Thayer County Good Beginnings referral services can offer connections to other services such as:
• Family Counseling
• Early Intervention Services
• Crisis Emergency Assistance
• Thayer County Immunization Clinic
• Child Care Options
• Housing Options
• Head Start Preschool
• Prepared Childbirth and Parenting Education
• Job Training
• Medical Care for you and your family
• WIC
• ADC
• Kids Connection