After a brain tumor, Peggy Glass of Oak and her family feared for the worst but after a short time in our hospital and rehabilitation department, she re-learned how to talk, read, write, and walk and returned home just in time for the holidays.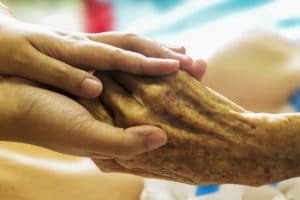 Peggy's journey began in July of 2018 when she experienced a migraine that lasted over two weeks. After a scan at another facility, the results came back abnormal and were followed up with a biopsy. During surgery, over 90 percent of the brain tumor was removed and Peggy returned for her rehabilitation at the facility that diagnosed her tumor. Shortly after, Peggy was transferred to a nursing home where she became unresponsive and was quickly transported to an emergency room. Peggy's husband, Ray, said, "They told us that we almost lost her." Peggy needed a breathing tube and it was soon discovered that she had an infection where the tumor had been removed.
After a second surgery, Peggy was transferred to a rehabilitation facility where she became detached. "She wouldn't talk to anyone. Then we moved her to Thayer County Health Services (TCHS) and everything just turned around here. Everything got way better and now we are going home." Ray and Peggy's grandchildren were able to welcome her upon her arrival at TCHS, and suddenly she went from talking to no one to talking to everyone at TCHS. "Everything has been great. When she got here she told me, 'I'm going to go home.'"  Five months prior to her discharge, the possibility of Peggy going home and being independent was minimal. On November 21, Peggy was able to go home in time to join her family to celebrate Thanksgiving. Ray credits part of Peggy's success to the rehabilitation staff and their integration into overall hospital care. Instead of having one appointment where Peggy would receive therapy for over an hour, she received it in smaller and more manageable increments. "This worked great for her. The whole staff is wonderful here; they really worked hard with her." 
Having access to care closer to home increased the number of visitors Peggy was able to have and Ray was able to spend much more time with her, versus spending it on the road. Overall, Peggy has had a great experience during her stay at TCHS. The Speech and Language Therapist, Amanda Carlson, has taught Peggy how to read again and improve her problem-solving skills. "She (Peggy) knew what she wanted to say but couldn't get it to come out. Amanda has helped her a lot in that way and Peggy has really gotten better", said Ray. Abby Walters, Occupational Therapist, and Anne Simms, Occupational Therapist Assistant, helped Peggy re-learn daily living tasks and become more independent. Physical Therapist, Brad Cooper, and Physical Therapist Assistant, Shelby Farnstrom, both worked with Peggy on her mobility and have seen her accomplish so much in a short amount of time. "Peggy worked really hard with us and with all the hospital staff. She had a goal and she met it and we couldn't be more proud," said Shelby. The entire Rehabilitation Department is very proud of Peggy, "Each time we thought something would pose a challenge or presented her with an obstacle, Peggy rose to the challenge and overcame them." Ray couldn't define what sparked her improvement, but noted that being closer to home made an impact, "We would recommend this place to anybody. I think it is marvelous!
We can't pinpoint what exactly turned it all around – it could be being closer to home or the fact that I was able to come to visit her every day." While Ray couldn't pick one reason, Peggy could, "We ended up coming to Thayer County Health Services and this is where my turnaround happened."