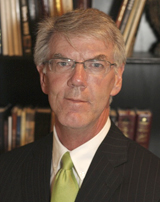 Dr. Matthew R. Hahne grew up in Cedar City, Utah. Dr. Hahne attended school in Cedar City and then attended Southern Utah University, graduating with a Bachelors of Science degree in Zoology/Chemistry. Dr. Hahne then went on to study Podiatric Medicine at the California College of Podiatric Medicine in San Francisco, California. He graduated Summa Cum Laude in 1989. Dr. Hahne completed his surgical residency in Denver, Colorado at the Highlands Hospital/Presbyterian Hospital program. Following his residency, Dr. Hahne practiced in Las Vegas, Nevada for six years with Southwest Medical Associates.
Dr. Hahne is a board certified food surgeon through the American Board of Food and Ankle Surgeons. He completed the re-certification process in 2014. He is a Fellow of the American College of Foot and Ankle Surgeons as well. Dr. Hahne is also a member of the American Podiatric Medical Association and the Nebraska Podiatric Medical Association.
He holds a monthly Podiatry Clinic at TCHS in the Specialty Clinic.
New appointments need a referral by calling 402-466-6677.
Current patients may schedule an appointment by calling the Specialty Clinic at 402-768-4690 or 888-868-7203.
Primary Office:
Lincoln Foot Clinic
600 North Cotner, Suite 116
Lincoln, NE 68505
402-466-6677