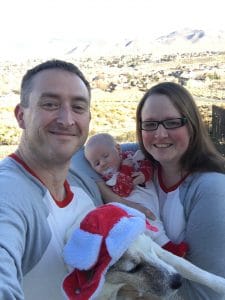 Thayer County Health Services welcomes Aaron Teachout as its new Chief Financial Officer (CFO), on Monday, April 20th. Aaron brings with him more than 5 years of direct critical access hospital leadership and over 10 years of overall experience in Finance. Aaron received his bachelor's degree in Mathematics- Actuarial Science from Oakland University and his Master's in Business Administration from the University of Nebraska-Lincoln. Prior to Thayer County Health Services, Aaron has worked in various healthcare facilities in Michigan, Alaska, and Nevada. He enjoys helping others embrace the exciting fields of Math and Finance.
"We are thrilled that Aaron is joining the TCHS family. Aaron is a great fit for our culture and has a significant amount of health care finance experience in a rural environment. He is a great addition to the team!", said David Burd, CEO.
Aaron has been married to his wife, Mary, for 11 years. They have a new son Hudson who just turned 6-months old. Mary was born and raised in Kearney, Nebraska and enjoys teasing Aaron that he is only a Husker by his alumni status, not a true Nebraska born Husker like her. They love to spend time with friends and family, (especially Hudson), playing cards, cooking healthy meals and getting out to explore the world around them with their dog Pepper.
Aaron reported, "I'm excited to join the already strong TCHS team. I've always felt at home in Nebraska and can't wait to meet you all."
Aaron replaced Doug Wismer, who has been with TCHS since 2015 before officially retiring this April.