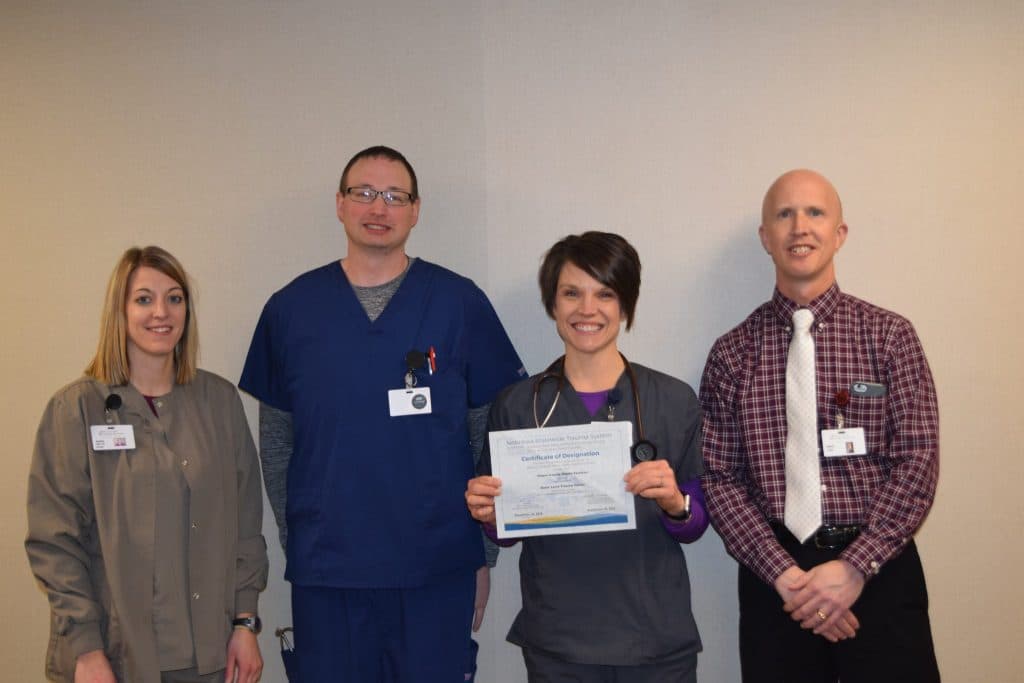 Thayer County Health Services is proud to announce our re-designation by the Nebraska Department of Health and Human Services Office of Emergency Health Systems as a Basic Level (Level IV) Trauma Center for another four years. Thayer County Health Services is the only Level IV Trauma Center in the region and prides itself on its commitment to provide quality care to trauma patients. This achievement recognizes TCHS's dedication to providing optimal care for patients who experience a traumatic event, such as a motor vehicle accident, fall, sports injury, drowning, or physical assault.
"At Thayer County Health Services, we are committed to providing excellent care for all patients, including trauma patients.  As a critical access hospital in rural Nebraska, we are not immune to trauma-related events and injuries," said Jamie Koch, RN, Chief Nursing Officer. "As a trauma designated hospital, we are committed to providing ongoing education and tools to our staff in order to provide the best care possible to all patients, especially those patients involved in a trauma related event."
Trauma centers are hospitals with resources immediately available to provide efficient surgical and medical intervention to reduce the likelihood of death or disability to injured patients. Accredited trauma centers must be continuously prepared to treat the most serious life-threatening and disabling injuries. Trauma centers across the United States are identified by a designation process and a verification process. The different levels (i.e., Level I, II, III, IV or V) refer to the kinds of resources available within a trauma center and the number of patients admitted yearly.
A Level 4 trauma center provides advanced trauma life support prior to the transfer of patients to a higher-level trauma center and provides evaluation, stabilization, and diagnostic capability care for trauma patients. Trauma Center designation is a process outlined and developed at a state or local level. The state or local municipality identifies unique criteria in which to categorize Trauma Centers. These categories may vary from state to state.
The elements of a Level IV Trauma Center include:
Basic emergency department facilities to implement ATLS protocols and 24-hour laboratory coverage. Available trauma nurse(s) and physicians available upon patient arrival.
May provide surgery and critical-care services if available.
Has developed transfer agreements for patients requiring more comprehensive care at a Level I or Level II Trauma Center.
Incorporates a comprehensive quality assessment program
Involved with prevention efforts and must have an active outreach program for its referring communities.
Our trauma team continues their education on an ongoing basis through courses such as trauma to the abdomen, emergency trauma assessment, trauma in the elderly, emergency stabilization and transfer and much more. "Being a Trauma Center is important to our facility and to our community because it improves our care for our patients. Michael White, RN, Dr. Hubl, and I work closely with our local EMS departments and meet with them quarterly to discuss any updates or issues. We also do community outreach and education for the public and the schools as part of our trauma designation," said Ranae Vorderstrasse, RN, Trauma Nurse Coordinator for Thayer County Health Services. "As a whole, I feel the trauma program has greatly improved the care of our patients and helps quickly get them to a higher level of care if needed."
There are 49 trauma centers in Nebraska and Thayer County Health Services' re-designation enhances the care of injured patients in Nebraska's rural regions. Each trauma center regardless of its level is an integral component of the emergency medical services system.
Thank you to all our staff, especially our trauma team, for all of their hard work and dedication to providing exceptional healthcare close to home.
Source: braintrauma.org, Nebraska Department of Health and Human Services