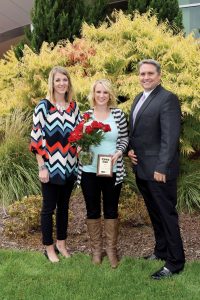 2016 "Caring Kind" Recipient for TCHS
On October 14, 2016 the Nebraska Hospital Association (NHA) recognized 76 hospital workers for their excellence in service by bestowing them with the NHA's prestigious "Caring Kind" award. For more than 35 years, the Caring Kind award has been given to Nebraska's most caring hospital workers. The award honors outstanding health care employees who have demonstrated compassion for patients, cooperation with co-workers, and dedication to excellence in their job responsibilities.
"Caring Kind recipients demonstrate the kindness, caring, dedication and commitment that exemplifies why health care in Nebraska continues to be among the best in the nation," NHA President, Laura J. Redoutey, said. "NHA is proud to recognize these outstanding health care workers who have made a tremendous difference in the lives of their patients, their communities, and their institutions." Hospitals across the state each select one Caring Kind recipient from within their respective institutions to be recognized during the NHA Annual Convention.
More than 2,000 dedicated health care professionals have received this award since its inception in 1979. This year, 76 employees were honored at the 37th Anniversary of the Caring Kind Awards Luncheon at the Embassy Suites La Vista Conference Center in La Vista.
The 2016 "Caring Kind" recipient for Thayer County Health Services was Courtney Turan who works as a Ward Clerk. Courtney was selected for this prestigious award by her peers. The following is the write up Courtney's peers wrote about her: "Courtney demonstrates her caring and compassionate nature toward our patients every day. She takes the time to listen to each individual in each situation and assist them to the best of her ability. She excels in communication with other departments as well as her own. She is always professional with the public and her coworkers. Courtney is exemplary not only at her position as a Ward Clerk, but is a shining light within her department and the entire facility. She pitches in to help without hesitation and always has a smile on her face. Courtney is a very kind and caring person who always puts the patient first. We should all strive to be a little more like Courtney."