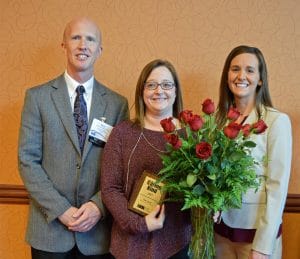 2017 "Caring Kind" Recipient for TCHS
For 38 years, the Nebraska Hospital Association has paid tribute to nearly 2,300 of  Nebraska's most caring and dedicated health care employees by presenting them with their prestigious "Caring Kind" award.
NHA member hospitals and health systems from across the state select one recipient from within their respective institutions to be recognized at The Caring Kind Awards Luncheon.  The awardees go above and beyond the call of duty to demonstrate compassion for patients and dedication to service excellence in their job responsiblities.
The 2017 "Caring Kind" recipient for Thayer County Health Services is Kate Burd, who works as a scheduler in the clinic.  Kate was recognized at the Caring Kind Luncheon held on October 27, 2017 in La Vista.
Kate's nomination:  Kate is the definition of caring and kind.  Kate is that motherly figure who is always there when someone is in need.  Kate relates to patients very well and knows many of them in the community.  She is always willing to go above and beyond to help patients and staff and never complains about it.  She always has a positive attitude and can turn arounds someone's bad day.  Patients and staff can turn to Kate and even if she can't fix the problem, she won't stop trying until someone else can.  Kate is a truly compassionate person that we can all learn from.
Thanks Kate for being such a great employee and taking such good care of our patients.