Registration/Donation page for the 2022 Hospital Gala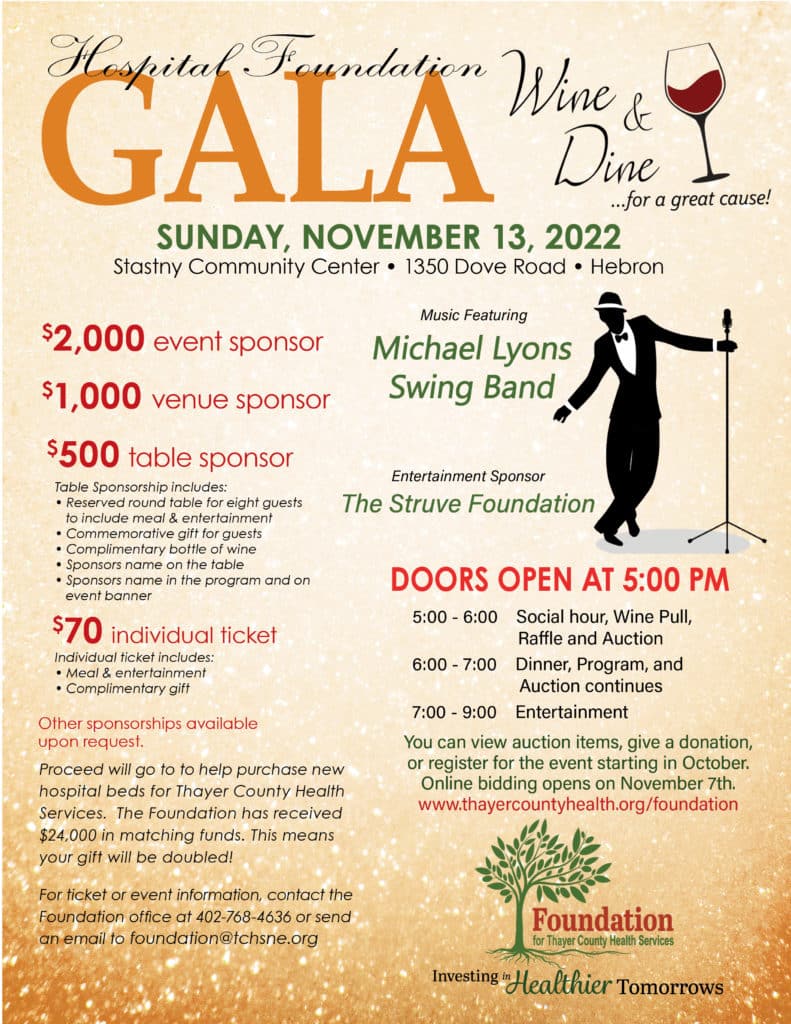 />
Annual Events
Variety Show – Held annually in November.
Golf Tournament – A four-person scramble held in June at the Hebron Country Club.
Who We Are…
The Foundation for Thayer County Health Services was organized on September 20, 1983, and established in 1984 as a non-profit 501(c)3 foundation by a group of nine Thayer County volunteers. The Foundation is governed by a Board of Directors that meets every other month throughout the year. They hold fundraising events to help support facility improvements, purchase medical equipment, and support programs for the hospital and clinics.
In 1994 and 2004, and 2015 the Foundation conducted successful capital campaigns to garner support for major hospital building projects. Each of these three campaigns was successful in meeting their fundraising goal. The outpouring of generosity from the local communities is why the foundation has been successful. Their support has helped Thayer County Health Services remain a leader in rural healthcare.
Foundation Membership
Membership in the Foundation for Thayer County Health Services is just $25 per year or $50 per couple. Please show your support by joining today.  You can join by contacting the Foundation office at 402-768-4636.
Investing in Healthier Tomorrows
The success of the Foundation's recent Capital Campaign raised over $1,000,000 in pledges and gifts to help fund Phase II of the ongoing building project. Phase II of the project is the renovation of the kitchen and cafeteria. This phase was completed in March of 2017.
The full renovation project was completed in March 2018.  This renovation on the hospital and the Hebron clinic further enhanced the current services provided by Thayer County Health Services. Key areas of the hospital renovated were the emergency room, specialty clinic, the surgery center, and the labor & delivery room.  In addition to the hospital, the Hebron Clinic was updated with new flooring, lighting, cabinetry, and additional exam rooms were added.  The registration area for the clinic was also updated and received a new layout to improve the workflow.
If you would like to receive a tour of the hospital and clinics or for more information on giving a donation to the foundation, contact Rita Luongo at 402-768-4636.
For your convenience we also accept online donations
For more information, contact:
Rita Luongo, Development Director
120 Park Avenue, Hebron, NE 68370
402-768-4636
Email: Foundation for Thayer County Health Services