Check out our facility:
To sign up for our electronic communications please fill out the following form:
Senior Leadership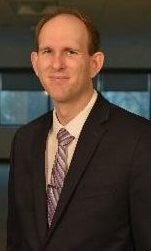 Scott Cook – Interim President & Chief Executive Officer
Scott began serving as Interim CEO in April 2021. Scott has had a wide variety of health care and leadership-related experience over the past 16 years. He is currently employed with CHI Health as the Network Development Consultant for the Omaha and CAH Link Networks. Prior to his current role, he served the CHI Health system as an administrative fellow working closely with the CHI Health Executive Leadership Team for 2 years. Scott obtained his undergraduate and Master's degree in Health Care Administration from the University of Iowa. He and his wife live in Omaha while his wife obtains her medical degree from the University of Nebraska School of Medicine.
Jamie Koch – Chief Nursing Officer
Since 2015, Jamie oversees the hospital nursing department as Chief Nursing Officer. Jamie received her Bachelor of Science in Nursing from Midland Lutheran College in 2002 and began her nursing career at Children's Hospital and Medical Center in Omaha, NE working in the Newborn Intensive Care Unit. Jamie also worked at St. Elizabeth Regional Medical Center in Lincoln, NE in the Adult Critical Care Unit. Jamie also has experience in outpatient endoscopy and outpatient surgery. Jamie began her career at TCHS as a night shift nurse in the hospital nursing department in 2007 and learned many new things in the Emergency Room and Labor and Delivery Rooms.
Amanda Vandervoort – Clinical Operations Executive
Amanda began serving as the Clinical Operations Executive in August 2021.  She comes to TCHS with 12 years of hospital experience in the rural Midwest.  She received her Bachelor in Business Administration from the University of Kansas in 1999 and worked in finance for the following years.  She served in the U.S. Army Reserves in progressive leadership roles, including the Adjutant General branch and service support units. Amanda finished her degree in nursing in 2008 and holds a Master of Healthcare Administration.  She is a registered nurse with a background in post-surgical patient care, utilization review, health information, and clinical informatics.  Additionally, she worked in strategic planning, business development, and holds a certification in healthcare compliance.  Amanda, her husband, and two children recently have made Hebron their home.
Michael DeFoe- Chief Executive Officer
Mike has lived and worked in the Midwest for 20 years. His career in rural healthcare has been almost exclusively in critical access hospitals similar to Thayer County Health Services. Starting as a Staff Accountant, Controller and has now held CFO positions for over 12 years. Mike attained a Bachelors of Accounting in Oklahoma and MBA in Health Care Administration in North Dakota. He is a US Army veteran who worked primarily in the intelligence community during his time in service. Mike is married with three children and he enjoys, camping, fishing and many other outdoor actives.
Board of Directors
Karen Dahlkoetter – Board Chair
Loren Wiedel – Board Vice Chair
Laura Tuma – Board Treasurer
Connie Lichty – Board Secretary
Michael Long – Board Member At Large