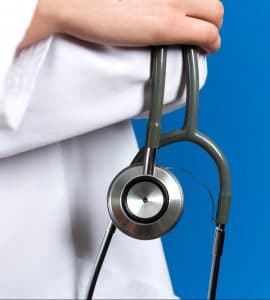 When Mike Georgi of Hebron, NE moved from Endicott, NE to Hebron, he stayed with his provider in Beatrice, but after heart surgery in Lincoln, he and his family decided they would like to doctor closer to home. When Mike's provider left TCHS, he followed but ultimately returned and chose Dr. Bryan Hubl as his primary care provider. "When my provider left, I followed, and don't get me wrong, he is a very good doctor, but it wasn't convenient, so I came back to TCHS and have been coming here ever since," said Mike.
Mike has experienced the integration of care between departments first hand. When he broke his foot, Dr. Hubl placed him in a boot but also conferred with our visiting Podiatry Specialist, Dr. Krejci to double check that everything was healing according to plan. "They have a really nice Specialty Clinic and the Specialists come from Bryan, CHI, and all over," said Mike, "After my heart surgery I completed my cardiac rehab at TCHS with Michael White, RN and he was so friendly and did an excellent job."
Location and personal care mean a lot to Mike. "It's not like you're a patient when you come in for an appointment, you're a friend to the provider because they truly care about you. They take the time to visit with you; you feel like you can ask them questions and not be rushed. It is not just the providers; the nurses really care about you too," stated Mike.
Mike works in Fairbury and when he needs an appointment, he knows that the staff will work hard to accommodate him. "It is convenient to go to TCHS even though I work out of town because they do a great job of getting me in early in the morning or late in the afternoon," said Mike, "Basically, you can get anything done that you need to have done at TCHS and if you need to be referred somewhere else, they will do it but any more they can do the majority of what you need right at TCHS. I'm really happy with everything."
When asked what he likes best about receiving care at TCHS, Mike responded, "TCHS is a one-stop place and the staff is qualified, polite, nice and know what they are doing. If I have to go to the doctor, then I would want to go to TCHS."