Occupational Therapy Pelvic Floor Rehabilitation
Both men and women can suffer from pelvic floor dysfunction, urinary incontinence, post-surgical pain, postpartum pain, diastasis recti, and/or chronic pelvic pain.  Many pelvic floor conditions can be managed and healed without surgery.  Pelvic floor therapy can be delivered by a specialized occupational and/or physical therapist who has completed additional training in this area.  Abby Walters, Occupational Therapist, at Thayer County Health Services is specialized in pelvic floor therapy.  Abby can work with you to better understand your symptoms and help you create a personalized program to help ease your pelvic pain or discomfort.
Some conditions that can be treated by a pelvic rehabilitation therapist include but are not limited to:
Bladder and bowel issues
Incontinence
Prolapse
Painful sex
Musculoskeletal pain
Pregnancy and postpartum recovery
What to Expect During an Initial Visit and Follow-up Appointments:
At the first appointment a detailed evaluation will be completed between the patient and therapist.  A discussion about the patient's lifestyle and area(s) of concern will be discussed.  The therapist will take into account ones medical history, lifestyle, and symptoms.
The OT is aware how personal and intimate these topics and this part of the body can be thus encourages the individual to be in full control of what one is comfortable with completing during the evaluation and further treatment(s).
During the assessment, the OT may need to conduct an internal examination of your pelvic floor musculature.  An internal examination helps the therapist get a better understanding of the flexibility and strength of your pelvic floor muscles, ligaments and fascia. In some cases, an internal exam is not necessary or possible.
What to Expect for Possible Treatments: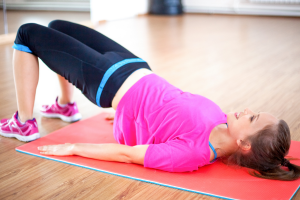 Pelvic floor and whole body exercises for stretching and strengthening
Trigger point massage to release muscle tension
Manual massage of other parts of the body
Nutrition and lifestyle
Mindfulness and breathing techniques
Pain management
Pelvic area internal and external muscle assessment and treatment
Development of an individualized home program
Some individuals may just see a pelvic floor therapist once or twice to assess strength and flexibility of the pelvic floor muscle and body as well as to get assistance for a customized home program.  Other individuals may need more sessions for their condition(s) to be treated more thoroughly.
Q&A about Pelvic Floor Therapy:
What do I need for Pelvic Floor Therapy?
If you feel that you could benefit from an appointment with our Occupational Therapist, Abby Walters, please contact your primary care physician or referring specialists such as a Women's Health Physician, OB/GYN, and/or Urologists to obtain an order for therapy.
Do you specialize in Women's Health?
Yes, Abby has completed advanced coursework through Herman & Wallace Pelvic Rehabilitation Institute.
How often would I be expected to see you? And for how long?
This all depends on what is discussed and assessed at the initial evaluation. After the initial evaluation, the therapist will have a better idea of what an appropriate duration for therapy will be to meet the individual's needs and goals defined by the patient.
Is your facility set up for private assessments?
Yes, the treatment will be completed one-on-one with Abby in a private treatment room.
Do you do internal pelvic floor muscle work?
Yes, if appropriate. At initial evaluation and other treatments, the occupational therapist will assess if this area is needed.  The therapist encourages the individual to speak up and know that you are in total control and nothing will proceed without your full consent.
Do you work with pregnant women?
Yes; however, the therapist will consult with your primary care physician or referring physician to determine the most appropriate treatment plan. While most therapists do not do internal work during pregnancy, there are still other ways to address areas of concern while pregnant.  Approval by your physician will be needed prior to any internal exam.
What if I'm on my period, will internal work still be completed?
If you are on your period or not comfortable doing an internal examination, just speak up to the therapist. The therapist will be sensitive to any pain or discomfort that may arise.