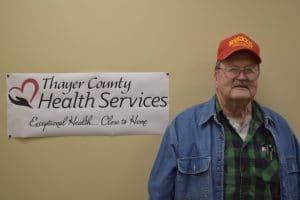 Sonny (Francis) Marintzer, of Milligan, NE, has been a long-time patient of Thayer County Health Services. When his primary care physician left Thayer County Health Services (TCHS), he decided to stay at TCHS because of the level of care he received.
"Everybody is good, really friendly and make you feel at home. It is partly why I changed doctors because I could stay here and so forth. If I have a problem, they get to the root of it really quick."
Sonny has been a patient of TCHS as far back as he can remember and has had his fair share of hospital stays. His healthcare journey began with battling breathing issues that led him to an inpatient stay in our hospital. Nearly 10 years ago, Sonny contracted the West Nile virus and it affected him so much that he lost consciousness and had to be transported via ambulance to Lincoln. After a few days in Lincoln, he returned to TCHS for the rest of his stay hospital stay because he wanted to be closer to home. "I had always had really good care here and that's why I finished my care here after my stay in Lincoln," said Sonny. While Sonny was here recovering from West Nile the Rehabilitation Department helped him to walk again and go up and down the stairs. Now Sonny has ongoing back pain and is looking forward to meeting with our newest specialist, Dr. Daniel Wik, who specializes in Chronic Pain Management to see how Dr. Wik can help alleviate his pain.
When asked about his primary care provider, Sonny's praise went beyond his own, "My daughter works in the medical field and she came along with me to an appointment with Dr. Hubl and really seemed to like him, so that is a good sign." Sonny is very appreciative of having access to healthcare saying, "It is a very good hospital, people are friendly and good at what they do. I go away feeling good about the care I received."