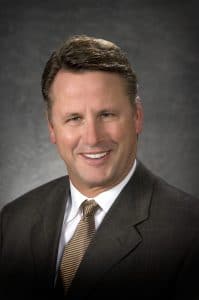 Dr. Robert Vande Guchte is originally from Edmonton, Alberta, Canada and he earned his medical degree at the University of Alberta. Upon graduation, he completed his orthopaedic residency at the University of Alberta and a fellowship in sports medicine at the University of Calgary Sports Medicine Centre. He also completed a second fellowship in spine surgery at the University of British Columbia Spine Trauma and Disease Center.
As a board-certified orthopaedic surgeon, his practice is primarily focused on treating disorders and injuries of the spine as well as sports medicine. Dr. Vande Guchte's commitment to spine and sports medicine is represented through being a part of a team of orthopaedic surgeons for the Lincoln Stars hockey team, Lincoln Saltdogs baseball team, and Lincoln Orthopaedic Center's diverse affiliated teams. His mission is to provide his patients with excellent service with compassionate care. He always strives to provide patients with the same high quality of orthopaedic care that he would offer to a member of his family.
In addition to his extensive medical commitments, he enjoys traveling with his wife, playing golf and ice hockey, and skiing. Dr. Vande Guchte especially enjoys heli-skiing, along with spending time with family and friends. He is a member of the Nebraska Medical Association, Lancaster County Medical Society, Nebraska Orthopaedic Society, American Academy of Orthopaedic Surgeons, Canadian Academy of Sports Medicine, Canadian Medical Association, Canadian Orthopaedic Association, and the Royal College of Physicians and Surgeons of Canada.
To make an appointment or for more information please call the Specialty Clinic at 402-768-4696.